Hey,
I'm Bernie Tusko, founder of FretGuru and creator (some would say obsessive mad scientist) of all kinds of helpful tools, tips and next level strategies that will bring your guitar – any guitar – to life.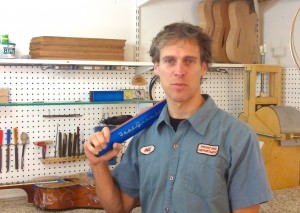 Having the privilege of working so closely with so many passionate musicians has taught me – amazing things can happen when your guitar gets out of the way.
Whether it's with my personal clients, or with students in a teaching and tutorial setting, the results are the same – and they end up thinking of me as some sort of "Guitar Whisperer" – who can coax unreal amounts of tone, sustain, volume and ease of playing out of any guitar.
In getting to talk with and give guidance to so many passionate guitar enthusiasts around the world, one thing that I find so amazing and energizing is – despite any cultural or language differences there may be – we are all able to connect on this deeper…  common language of… personal expression.
And the willingness to expand this ability – to express more freely, and to move past the roadblocks that try to hold us back…  seems like a universal drive that keeps us growing and moving forward.
As my skill and vision for the guitar craft and has grown and unfolded, it's taken some very unexpected turns.  I mean, at first I was blown away that what started as me just tinkering to figure out what made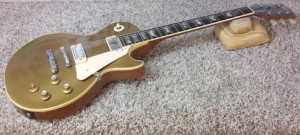 a guitar easier/more enjoyable to play – and made it sound better… before long had people tracking me down to work on their guitars.  "This is pretty cool" I thought… but making a career out of it?
Didn't take long before it wasn't possible for me to do anything else… like I'd been swallowed by the craft that I loved.  But I went with it and allowed it to unfold.  If things continued on like that, It would have been cool with me.  But I would have never guessed the turns this would take.
To think I'd be rubbing elbows with many of my musical heroes, hanging out sidestage like an honorary member of the band – even having tea around my kitchen table with them! – more than I would have ever expected from the humble life of a luthier.
If 10 years ago you would have told me that I'd have this much reach and ability to connect with so many fellow guitar geeks around the world, i'd have said you were either crazy or on drugs.
If you'd have told me that the tools I've developed for my personal workbench – would have found their way by the thousands to so many other workbenches around the world… to so many of my peers and A-List luthiers?!  I'm humbled and honored… and inspired to do more.
As you've noticed, things are coming together around here even though it's still in the formative stages… like we're just moving in and figuring out where everything fits. Your patience will be rewarded.
What can I help you accomplish?  What area of your playing or luthier-ing would you like to raise your game on?  You can drop me a line any time.
I'm serious about this. Here's my direct email: FretGuru@gmail.com.
And be sure to get in the loop somewhere so I can keep you posted on what's new.  Just find one of the "Connect" buttons and leave me the best email to reach you at.
I'm looking forward to talking with you soon!
Bernie / FretGuru